from fundamental properties to applications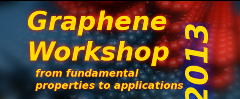 Ajdovščina, Slovenia – from 8th to 11th of April 2013
This is the latest version of lectures programme.
The aim of the workshop is to attract young researchers to the field of graphene and to presents recent advances achieved within EUROGRAPHENE Collaborative Research Projects.
The workshop will bring together theoreticians, engineers and experimentalists working on different aspects of electronic and structural properties of graphene and its applications.
In addition to lectures, the workshop programme will include "hands-on" sessions, where participants will have the opportunity to practice on real experiments.
Registration is closed!

Registration is closed. Workshop is ended. For registering to the workshop, please send a message to the following e-mail address: graphene@ung.si. The message should contain the name of the participant, contact details and accomodation preferences. Please check Accomodation and Travel for more details.
Funding
This event is supported by European Science Fundations (ESF) under the EUROCORES Programme EUROGRAPHENE.