Time-of-flight photoconductivity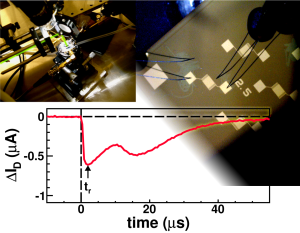 Time-of-flight photoconductivity is an experimental method to measure charge carrier mobility in semiconducting and insulating materials. This setup is equiped with a tunable wavelength pulsed laser. Therefore, in addition to time-resolved also the spectroscopic study of photon-to-electron conversion dynamics can be characterized.
List of equipment:
3ns pulsed laser with tunable wavelength 210nm – 2.3µm (Ekspla NT-342A)
2.5GHz digitizing oscilloscope (Lecroy WavePro 725i )
4GHz probe tips (Picoprobe Model 10) with RF-240 coaxial connection
Voltage supply (Keithley Ammeter 6487)
Micropositioning system (Signatone SP-100)
Person in charge: Doc.dr.Egon Pavlica, +386 5 365 3500, egon.pavlica@ung.si
Equipment location: Laboratory LFOS, University of Nova Gorica, Vipavska c. 11c, Ajdovščina, Slovenia
Equipment accessibility: from Monday to Friday between 8 a.m and 4 p.m., or else in preceding accordance with the person in charge.
Use of the laser is allowed for qualified operators only!